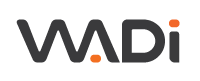 We are the digital innovation unit of Technology Express
Let your message speak for you
Technology Express's new division created to put the best solutions and devices on the market in digital signage at your reach.
DISCOVER WADI AND FIND YOUR PARTNER FOR THE BEST DIGITAL COMMUNICATION.
Access and implementation of the latest global trends in design and development
All the experience and trajectory of Technology Express at the service of every communication need.
To generate the content your project needs and improve your message metrics. We are here to help your business grow!